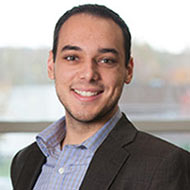 What the Philippines Taught Me About Professional Development
By Will Brucella
Account Manager
December 11, 2017
---
It was late at night in the humid air of a Philippine rural mountainside. We had just finished eating dinner under the stars, after a long day of travel, when the team leader came over to me and said, "You're preaching a sermon tomorrow morning."
My mind started racing. What? Me preach a sermon? I can't do that! I have nothing prepared!
I was already outside of my comfort zone being so far from home in a foreign country, and now I had to preach a message to people who most likely wouldn't understand me! I took a deep breath and said a prayer. I had signed up for this trip and had made the decision to try everything and take advantage of any opportunity presented. Sure, it was different and not what I was used to, but I decided to put my nerves aside and get to work. I stayed up for the next few hours putting together a message to share.
The next morning, I climbed onto a motorcycle and rode out to a small church in a rural village. When it came time for me to preach, I took the stage and was surprised to feel such confidence! The next thing I knew, my message had flowed for 40 minutes without missing a beat and I rarely looked at my notes. And the best part was I enjoyed it! I wound up getting to do it again the following week and many times after.
Coming back from one of the most life-changing trips impacted me far beyond my spiritual relationship with God. Upon returning, I took that same mentality of trying new things and applied it to everything, especially if it's outside my comfort zone. I've found my work to be so much more rewarding and engaging. I've gotten to manage more projects, many of which were new to me. I've even been given larger responsibilities, and best of all I am more confident in what I'm doing! Although I had limited experience prior, I've learned how to do basic html, design work, and even event coordination. And not only have I enjoyed these new experiences, but I've also discovered new skills.
It's easy to fall into a routine and become frustrated, and that's why when the opportunity arises, raise your hand and take that first step into the unknown. You'll learn you have skills you didn't know you had or find something new you really enjoy – and you'll be a happier person because of it! When I think back to those days on the Philippine mountainside, and how much I've grown since, I know I am.